Details

Published: Wednesday, 05 April 2017 09:53
The Geoscape Sydney dataset Now Available
With the backdrop of the Locate17 conference in Sydney, PSMA Australia officially launched Geoscape and released the highly-anticipated Sydney dataset on 5 April 2017.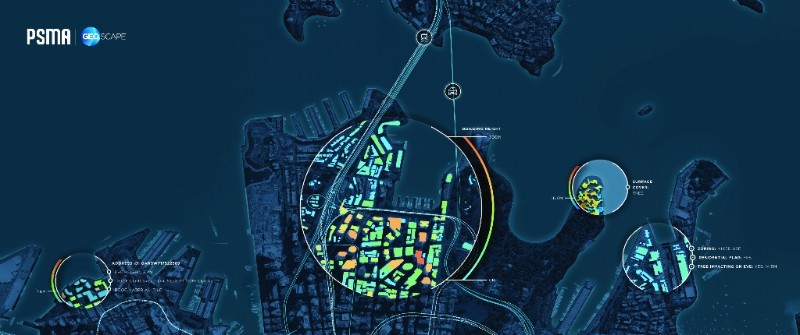 Geoscape will provide detailed information about buildings and their features, trees and land cover for every address in Australia.
Coverage of the entire Australian continent's 7.6 million square kilometres is expected to be achieved by early 2018. Please refer to the Rollout page on the Geoscape website for the latest information on progress.
The current data release includes:
• Sydney - covering the greater urban area stretching south to Waterfall, west to Springwood and Warragamba, and north to Palm Beach and Cumberland Reach. The dataset excludes the Campbelltown area at this stage. We intend to deliver this as part of the next release.
• Queensland rural - at this stage including buildings only. Land cover will be delivered as part of the next data release.
• A number of additional towns in South Australia and New South Wales.
• Updated PSMA data linkages for all previously released areas of Adelaide, rural South Australia and the ACT.
The Geoscape dataset is now available for download by authorised resellers via PSMA's Online Data Delivery System. Login here or by using the partner login link on the PSMA Australia website at www.psma.com.au .
If you do not currently have access to Geoscape, you can speak with one of PSMA's authorised resellers. To enquire about becoming a PSMA Australia partner or reseller, please email This email address is being protected from spambots. You need JavaScript enabled to view it. .
You can also download a Geoscape data sample here . The sample dataset covers an area of approximately 85 square kilometres that includes the South Australian township of Freeling and a surrounding rural area.