Details

Published: Tuesday, 10 May 2016 17:19
Vespucci Summer Institute (Week 2): Sensors and Mobile Apps for Smart Cities, 5-9 September 2016, Benicassim, Spain
Many models of smart cities involve mobile apps in the hands of citizens, connecting to a potential collection of millions of sensors. But let's take a step back and critically examine what we know about mobile apps: what works and what does not. Are sensors and sensor networks living up to their potential, or are they just industry-led hype? What are the organisational, ethical, and social implications of a fully sensorized smart-city?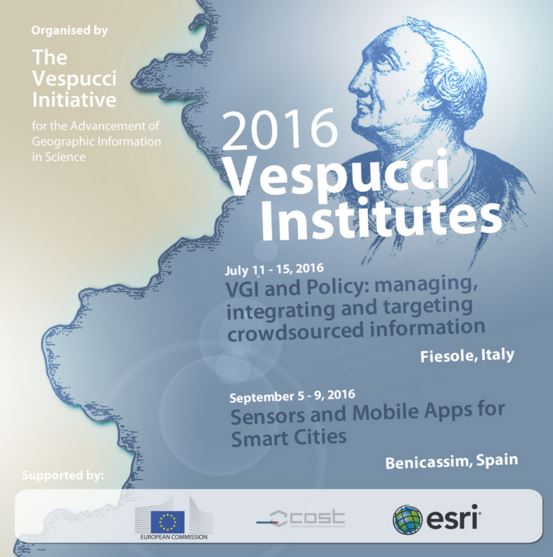 Like other Vespucci Institutes, this intense group discussion-based week, mixed with relaxation, will seek to uncover gaps in current thinking and research agendas. It is not a traditional summer school where junior people sit and listen to senior people talk. Participants will be expected to work in small groups, debate openly and express their opinions. The overall group size will be capped at 25 to maintain a small, close working atmosphere. The working language of the week is English.
Important Dates:
Position papers due: July 01, 2016
Notification of acceptance: July 15th, 2016
Vespucci Institute: September 5-9, 2016, Benicassim, Spain
Fees: The fee for participation in week 2 is 350 Euros, and includes tuition, lunches and coffee breaks, 2 group dinners, and access to a special rate at the Voramar hotel (breakfast included).
Accepted participants will be sent payment details.
This summer institute contributes to the goals of the doctoral program "Geoinformatics: Enabling open cities". GEO-C doctoral researchers are eligible to participate at no extra cost.
Contact e-mail for application questions: This email address is being protected from spambots. You need JavaScript enabled to view it.