Details

Published: Tuesday, 25 October 2016 17:15
Mapping National SDIs - New Initiatives
"Without data you're just another person with an opinion." - W. Edwards Deming
About six years ago, Asmat Ali, Assistant Director at the Survey of Pakistan, wrote a letter to Joe Francica, then Editor-in-Chief & Vice Publisher of Directions Magazine. The letter was published in the magazine and received well by the geospatial community including the Global Spatial Data Infrastructure (GSDI) Association.
In the letter, some core questions were raised such as how many countries in the world have developed or are in the process of developing Spatial Data Infrastructure (SDI) and SDI like proposals that are/were prepared and being implemented in various countries and organizations. Asmat was expecting to find answers to these questions on the GSDI website but could not do so. It is fair to say that answers to some questions raised at that time can now be explored and interpreted on the website. However, one of the features, i.e. a map showing countries with SDI initiative still remains unavailable. This is still relevant as SDIs are the most efficient means to manage and disseminate standardized geospatial data and without data you're just another person with an opinion, as argued by W. Edwards Deming above.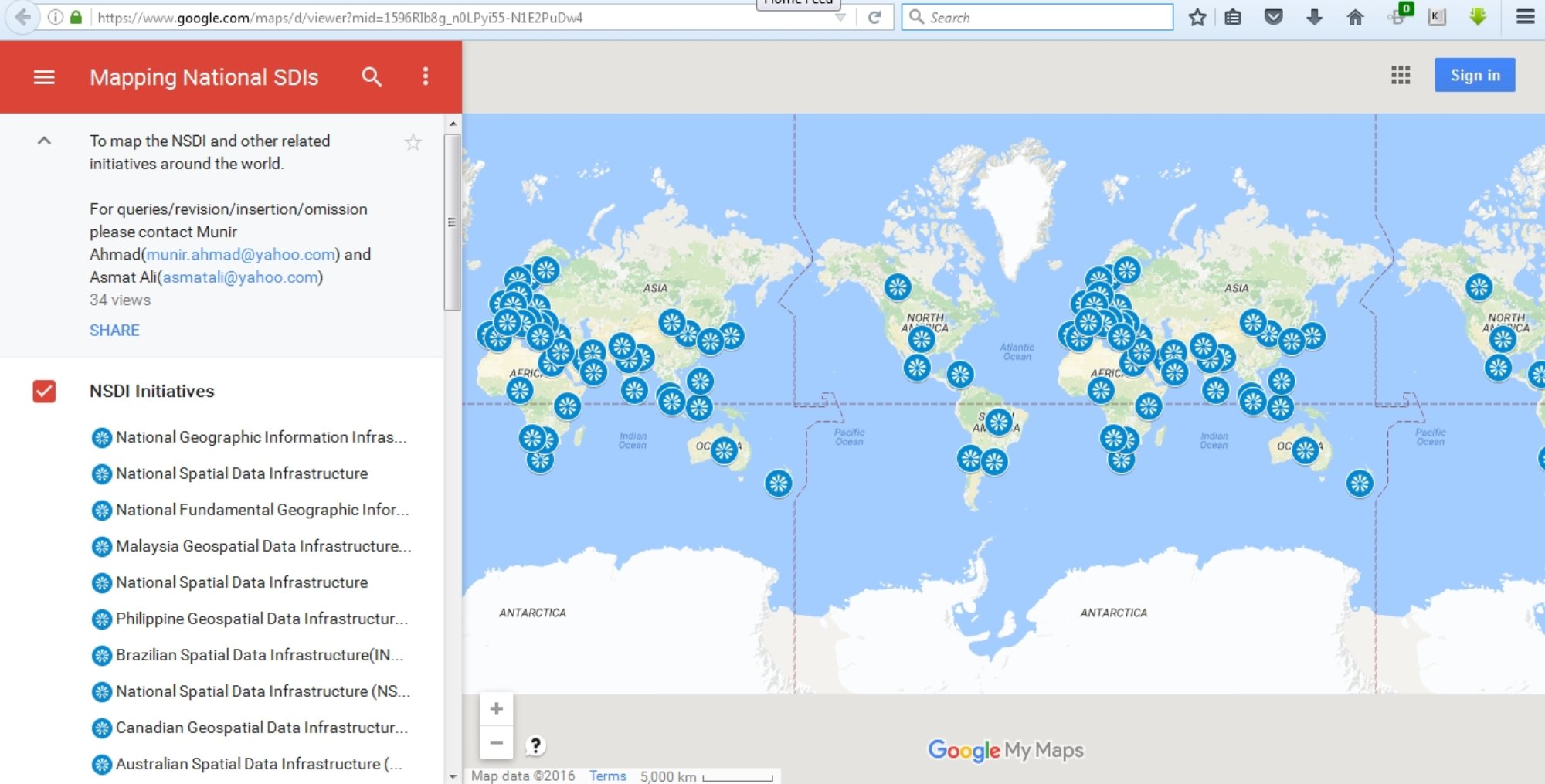 Therefore, Asmat and Munir Ahmad decided to take up the challenge to prepare such a map and share with all as a public good. They have prepared the map which can be accessed through the following link:
https://www.google.com/maps/d/viewer?mid=1596RIb8g_n0LPyi55-N1E2PuDw4
The map provides following information:
Name of the initiative, i.e. Initiative Name,
Country,
Date when SDI is initiated in a country, i.e. Date of Commencement,
Link to geoportal, i.e. Portal Link,
Legislation documents,
Leading Organization(s).
The map reveals some interesting information including:
SDIs exist almost in every region/country.
The name of such initiatives in most countries is 'SDI' or 'NSDI' except few examples such as Nepal and Norway.
Some countries are implementing (N)SDI but link to a geoportal does not exist.
Certain qualitative and quantitative analysis can be further carried out.
The map has been developed using Google Maps as the backdrop to make it accessible for everyone. Information available on the UN-GGIM website has been of most help to prepare the map, which Asmat and Munir will continue to enrich provided that necessary information is given to them.
It is important to mention that a project to create a global index of National Spatial Data Infrastructures was conducted at the University of Oxford (UK) with the support of the World Wildlife Fund (WWF). The work of this project is now to be advanced in a project part-funded by the GSDI Association through the end of 2018.
The GSDI Association applauds Asmat Ali and Munir Ahmad for taking this initiative, which will be very much appreciated by the SDI community globally.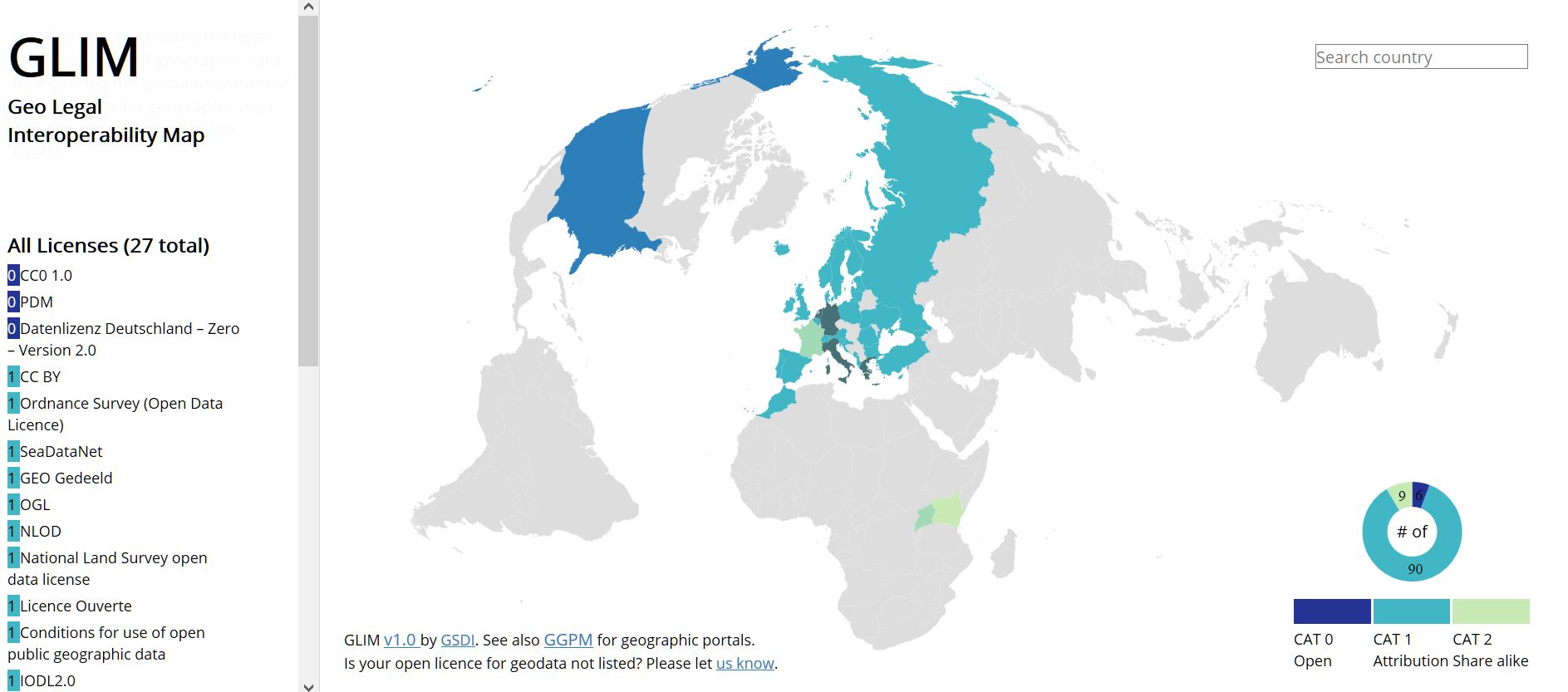 We also would mention the global maps produced in the GSDI GLIM/GGPM Project, the first two phases of which concluded on 31 August 2016, which developed the Geo Legal Interoperability Map (GLIM) and the Global GeoPortal Map (GGPM) - visit http://www.bastiaanvanloenen.nl/glim/glim.html and http://www.bastiaanvanloenen.nl/glim/ggpm.html . This project was completed by students at TU Delft under the joint leadership of Dr Bastiaan van Loenen and Prof Joep Crompvoets of GSDI Members TU Delft and KU Leuven, respectively.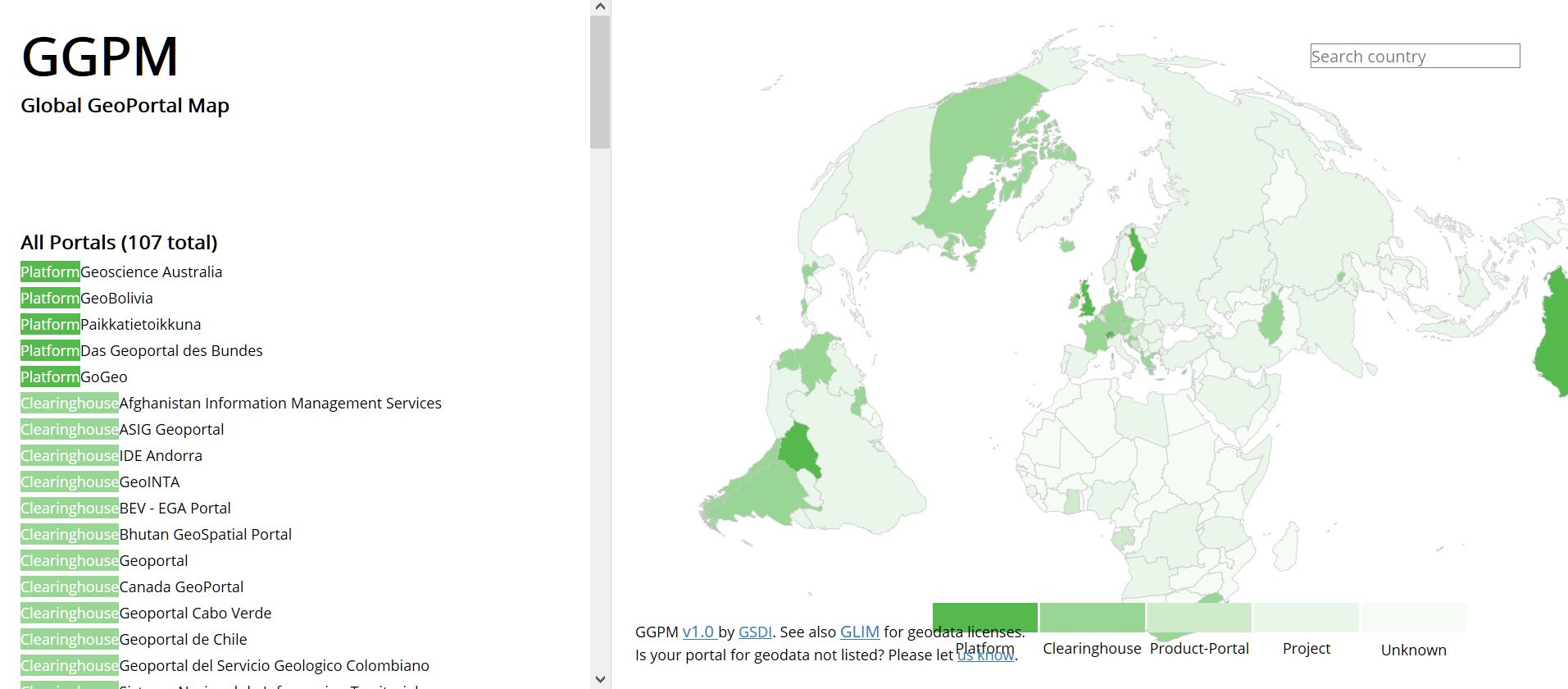 The new GSDI Project "Towards a Global Index of National Spatial Data Infrastructures (GI-NSDI)" began in September 2016 and will finish end of 2018. GI-NSDI is being executed by Georgina Chandler, who conducted the research mentioned in his article above, with assistance and supervision from Prof Joep Crompvoets (KU Leuven), Paul Jepson (Oxford University), Susanne Schmitt (WWF-UK) and Dave Lovell (GSDI President-elect). The work of the new project is also to inform the UN-GGIM initiative (UN Global Geospatial Information Management) of which GSDI Association is a Partner Organization, as well as being official Observers on the UN-GGIM Regional Committees for the Americas and Europe and a Liaison Partner for UN-GGIM Asia-Pacific, while the Secretariat for UN-GGIM Africa is GSDI founding member UN Economic Commission for Africa (UN-ECA).
Source: Asmat Ali, NSDI Team Leader at Survey of Pakistan and Roger Longhorn, GSDI Secretary-General