Details

Published: Saturday, 09 July 2016 11:33
6th Digital Earth Summit in celebration with ISDE 10 years Anniversary
GSDI Immediate Past President Professor Abbas Rajabifard made a congratulatory speech at the 6th Digital Earth Summit held in Beijing, China, on 7-8 July.
Congratulatory speech by Professor Abbas Rajabifard
Dear Prof Guo, Distinguish Delegates, the ISDE's Colleagues, Ladies and Gentlemen,
In representing the Global SDI Association-GSDI, I am delighted to be given this opportunity to Congratulate the International Society of Digital Earth on its journey. This year is a very significant since the ISDE has established officially in 2006 as an international scientific organisation promoting academic exchange, scientific and technological innovation, education, and international collaboration towards the development of Digital Earth, with contribution of several visionaries and leaders. Today, we as a society face many challenges. Many of these are complex, and indeed, often framed as 'wicked' problems, e.g. poverty, food security, environmental sustainability, climate, and urbanisation. These issues require, more than ever, a coordinated effort by governments, industry, academia and NGOs to work collaboratively to support the global agenda for sustainable development.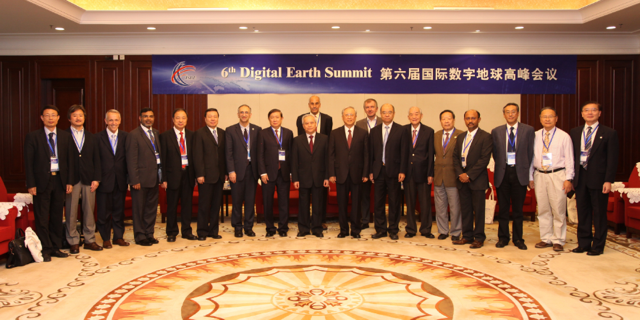 In our current digital age, data is being produced constantly and in ever greater volume. In this context, an initiative like Digital Earth plays an important role in translating this data into knowledge that we can use and apply within our own sectors and industries.
On behalf of the GSDI Association, I am pleased to express our delight with the signing of an MOU last October that formalises a strategic relationship between our organisations. Both organisations recognise the importance of location, geoinformation, and the advantages of spatially-enabled data for decision-making. With its mission to promote ready discovery to, access, and application of geospatial information, as well as helping jurisdictions build capacity in these aspects, GSDI is a natural partner to the advancement and use of Digital Earth, and we have committed to strengthen our future cooperation.
Our current GSDI president Prof David Coleman has fond memories of co-chairing one of the early Digital Earth Conferences held in Fredericton back in 2001. We are truly amazed just how much the world has accomplished over the past 15 years in terms of our understanding, development, use and management of the technologies, standards and policies supporting spatial enablement. I like to think that presentations made and relationships formed at both Digital Earth and GSDI meetings over the ensuing years helped to make that happen.
On this occasion of the ISDE's 10th anniversary, I want to congratulate the Society of Digital Earth past presidents and Prof GUO Huadong- the current Presidet and the team, for a successful decade of operations, and very important contributions, and for their leaderships of Digital Earth development, and it is wonderful to see the Digital Earth is still vital and is strong and has a contribution to make, while it has evolved, it is still make a contribution to the betterment of mankind, the societies and the sustainable development. We hope that Digital Earth initiative will continue to go from strengths to strengths, and from a personal point of view, as a researcher leading a research centre on SDI and Land Administration in the University of Melbourne, we are very happy to continue to collaborate and find it valuable, and so I am delighted to congratulate the Society again on its achievements and its journey, and I hope the journey continues for long time and continues to gets stronger and stronger, and I express our best wishes for the future.
Thank you.
Prof Abbas Rajabifard
Member of Executive Board and Immediate Past President of GSDI Association
Director, Centre for SDIs and Land Administration, the University of Melbourne, Australia