Details

Published: Friday, 04 March 2016 21:16
GSDI 15 World Conference opportunities for sponsors & exhibitors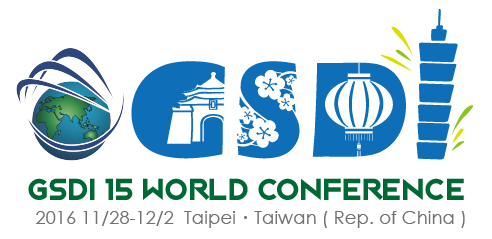 Strengthen professional ties – Increase visibility – Explore new market opportunities
The GSDI Association invites you to sponsor or exhibit at the 2016 GSDI 15 World Conference which is being held in Taipei, Taiwan, (Rep. of China) from 28 November to 2 December 2016.
This international global geospatial conference provides excellent opportunities for you to interact with the worldwide geospatial community and maximize your visibility while showcasing your products and services. The Conference Organizing Team has prepared a prospectus containing all the details you may need to book your participation as a Sponsor or Exhibitor. A variety of sponsorship or exhibitor packages is available to meet your brand, marketing, strategic, and networking objectives.
By participating in the conference as a Sponsor/Exhibitor, your organization will gain prominent exposure before, during and after the conference. Furthermore, your organization and staff will be able to:
Establish and develop relationships.
Promote your organization as a significant provider and expert of products and services.
Promote brand awareness and give live demonstrations of your products and services.
Explore new markets for your products and services.
Gain exposure to international knowledge and professional development.
Keep abreast of the latest developments and technology in the industry.
Many of the GSDI World Conference sponsors and exhibitors return again and again because they recognize the value of the face-to-face interactions afforded by this unique gathering of professionals working at the interface of spatial data handling, location-based services, territorial planning, open data governance, citizen science, and evidence-based decision-making – to name a few.
Access the GSDI 15 World Conference Sponsor and Exhibitor Prospectus at:
gsdiassociation.org/images/GSDI_15_Conference_Prospectus_ver5_7March2016.pdf
General information about the conference is available from This email address is being protected from spambots. You need JavaScript enabled to view it..
GSDI World Conference website: http://gsdi15.org.tw/