Details

Published: Wednesday, 23 December 2015 14:56
Nepal Workshop Report - Sharing SDI Research on Disaster Risk Reduction
A one-day Pre-conference workshop tutorial entitled "Sharing SDI Research on Disaster Risk Reduction" was held on 24 November 2015 n Kathmandu, Nepal.
The workshop was jointly organised by the Global Spatial Data Infrastructure (GSDI) Association and the International Society of Photogrammetry and Remote Sensing (ISPRS) WGIV/4 in association with Kathmandu University (KU), Survey Department (SD), Land Management Training Center (LMTC), University of Southern Queensland (USQ), University of Melbourne/CDMPS, Nepal Institute of Chartered Surveyors (NICS), and Nepal Remote Sensing and Photogrammetry Society (NRSPS). The workshop was held at Kathmandu University, CV Raman Auditorium, Dhulikhel, on 24 November 2015.
After this Pre-conference workshop, the main international three-day workshop on "The Role of Land Professionals and Spatial Data Infrastructure in Disaster Risk Reduction in the Context of Post 2015 Nepal Earthquake" was successfully organised by of FIG Commission 2 (Professional Education) and ISPRS WG IV/4 (Geospatial Data Infrastructure) from 25-27 November 2015 in Kathmandu, Nepal and GSDI Association was the media partner for this event.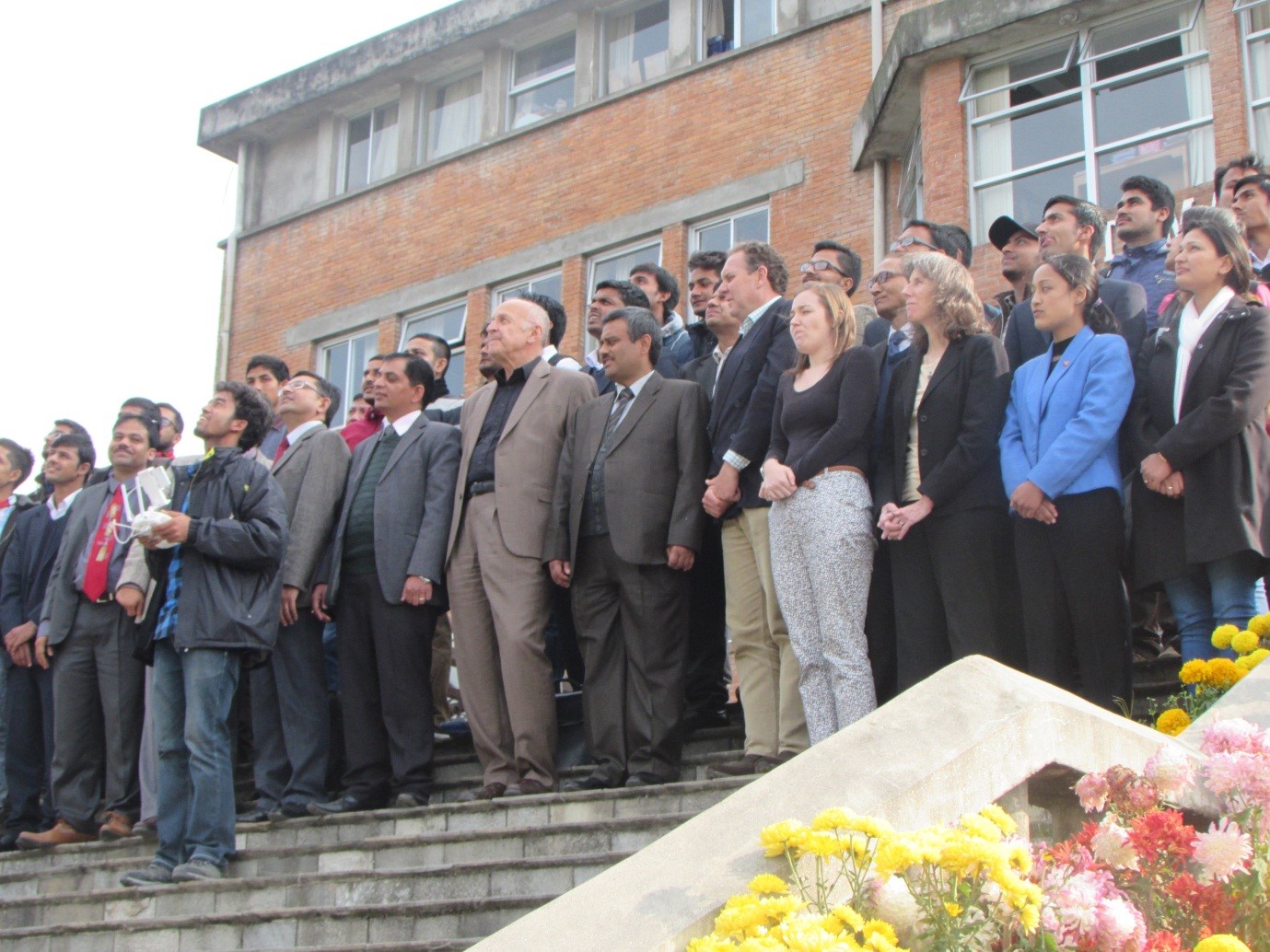 Photo: Workshop Participants at Kathmandu University - Photograph taken by UAV Camera
Dr Dev Raj Paudyal, representative of GSDI Association Individual Members and from School of Civil Engineering and Surveying, University of Southern Queensland, Australia, was the facilitator of the workshop. There were about 60 participants including young surveyors, early career researchers and geomatics students. Professor Bhola Thapa, Registrar, KU, presented the welcome speech.
The workshop comprised two Technical Sessions followed by Panel Discussions. Mr. Krishna Raj BC, Executive Director of Land Management Training Centre, Nepal, chaired the First Technical Session and Mr. Madhusudan Adhikari, Director General of Survey Department of Nepal, chaired the Second Technical Session. The panel discussion was chaired by Professor Ramesh Kumar Maskey, Associate Dean, School of Engineering, Kathmandu University. Finally, Dr Dev Raj Paudyal summarised the workshop outputs and Professor Ramesh Kumar Maskey closed the panel discussion session.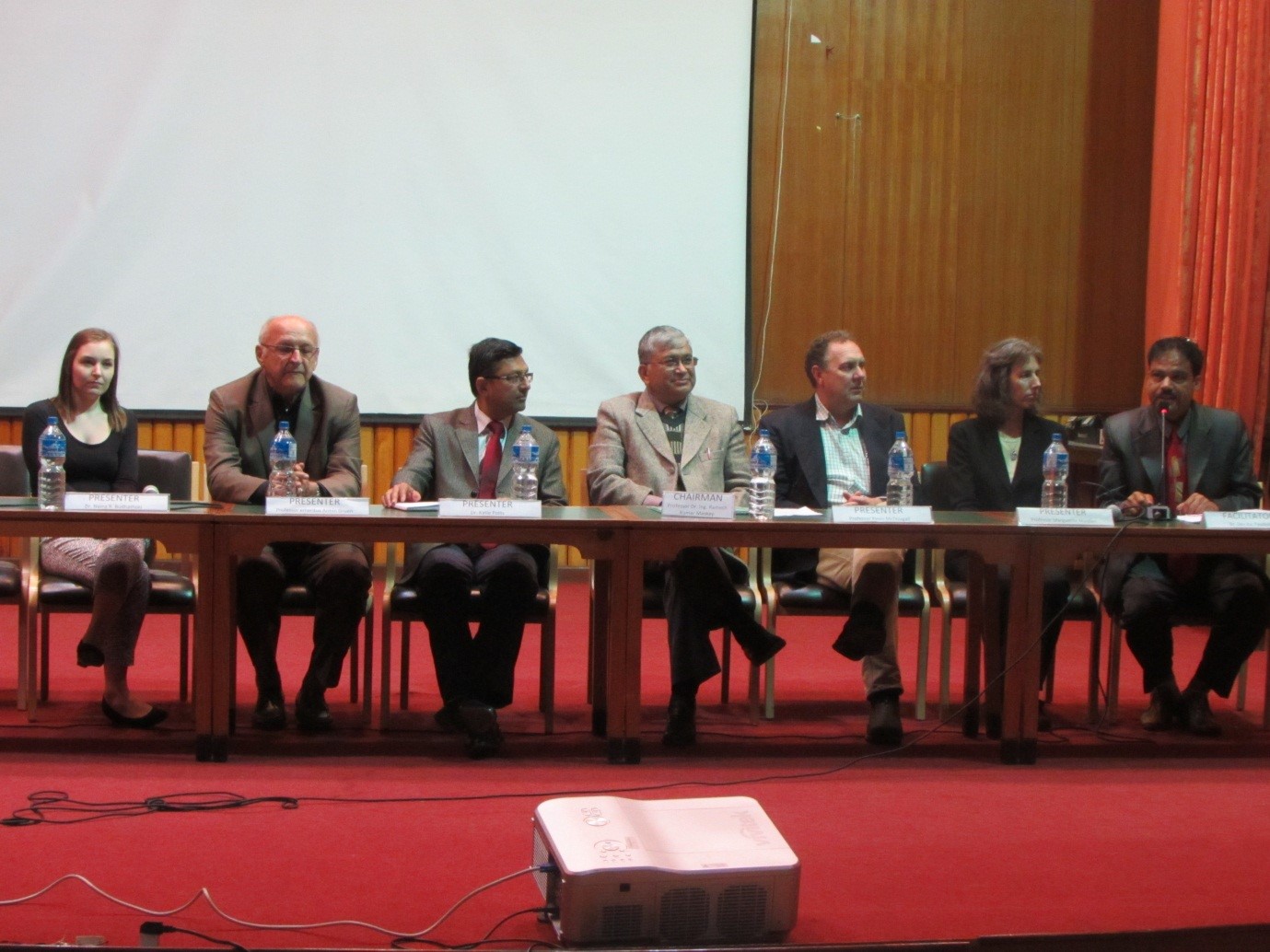 Photo: Panellist from left Dr. Katie Potts, Professor emeritus Armin Gruen, Dr Nama Budhathoki, Professor Ramesh K. Maskey, Professor Kevin McDougall, Professor Marguerite Madden and Facilitator Dr Dev Raj Paudyal
Professor Marguerite Madden, Director, Center for Geospatial Research (CGR), Department of Geography, University of Georgia and Second Vice President of ISPRS presented on "Geo-spatial Technologies and People: Respond and Recover". Professor Kevin McDougall, Head of School of Civil Engineering and Surveying, University of Southern Queensland, Australia, presented on Challenges and Opportunities in Utilizing SDI and Crowdsourced Data During Disaster. Dr Nama R. Budhathoki, Executive Director, Kathmandu Living Labs, presented on "Digital Innovation for Social Good".
On the behalf of the GSDI Association, the Centre for Disaster Management and Public Safety (CDMPS) at the University of Melbourne, Dr. Katie Potts delivered a presentation on "The Next Generation of Disaster Management'. Professor emeritus Armin Gruen, Chair of Information Architecture, ETH Zurich, Switzerland, delivered a presentation on "UAV Technology for Geospatial Data Acquisition".
All presenters participated in a panel discussion on the topic of sharing SDI research for Disaster Risk Reduction. Ms Florencia Tuladhar took the role of Master of Ceremony in the event and Mr Subash Ghimire, Assistant Professor and Co-ordinator of Geomatics Engineering Program under DCGE co-ordinated the workshop. The program detail can be accessed at this link: http://www.workshopnepal2015.com.np/pre-event.html.
Report by Dr Dev Raj Paudyal, GSDI Board Director for GSDI Individual Members
Download this report as a PDF file here.
---
The GSDI Association
Our Vision is a world where everyone can readily discover, access and apply geographic information to improve their daily lives.
Our Purpose is to encourage international cooperation that stimulates the implementation and development of national, regional and local spatial data infrastructures.
Our Mission is to advance geo-information best practices, knowledge sharing and capacity building for the improved sharing and application of geographic information.