Advancing Geographic Information Science: the past and next twenty years
Advancing Geographic Information Science: the past and next twenty years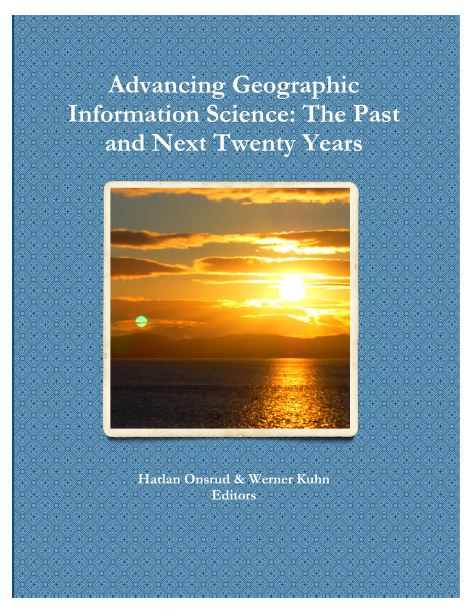 This digital book, edited by Harlan Onsrud and Werner Kuhn and published by the GSDI Association Press under Creative Commons Attribution 4.0 License, is the result of invited and solicited submissions to the 2015 Vespucci Institute on Advancing Geographic Information Science: The Past and Next Twenty Years. A core goal of the institute was to review the research challenges of the past twenty years and discuss emerging challenges of the next twenty.
At the institute, in which the chapters in this book were critiqued and discussed, the sessions in which materials were presented and discussed included those on Semantics and Reasoning, Spatial Relations and Properties, Network and Probabilistic Approaches, Feature Detection and Digital Mapping, Movement and Change, Geoontologies for Linked Data, Rethinking Principles and Approaches, Data and Services, and Resource Tracking and Management. However, many scientific breakthroughs within the field have come not from narrowly constrained specialties but from intersections within the discipline and with other disciplines. In this spirit, rather than categorize the contributions to this volume as was done at the recent institute sessions, the editors chose to publish the peer-reviewed articles in this volume in alphabetical order. Extended abstracts are presented in a similar arrangement. In this manner, the editors hope that readers are able to better make connections among thinking and diverse perspectives through these contributions and within the broad field that has come to be known as geographic information science.
The book can be ordered from print-on-demand source lulu.com at this link - price US$73.37.